SeaWorld finally acknowledged the significant shift in public opinion on orca captivity and made its historic announcement that the current generation of orcas at SeaWorld will be its last. A combination of relentless protests, canceled corporate sponsorships, and celebrity outcry led to the landmark decision. Let's take a look at just a handful of the specific actions that made this victory possible.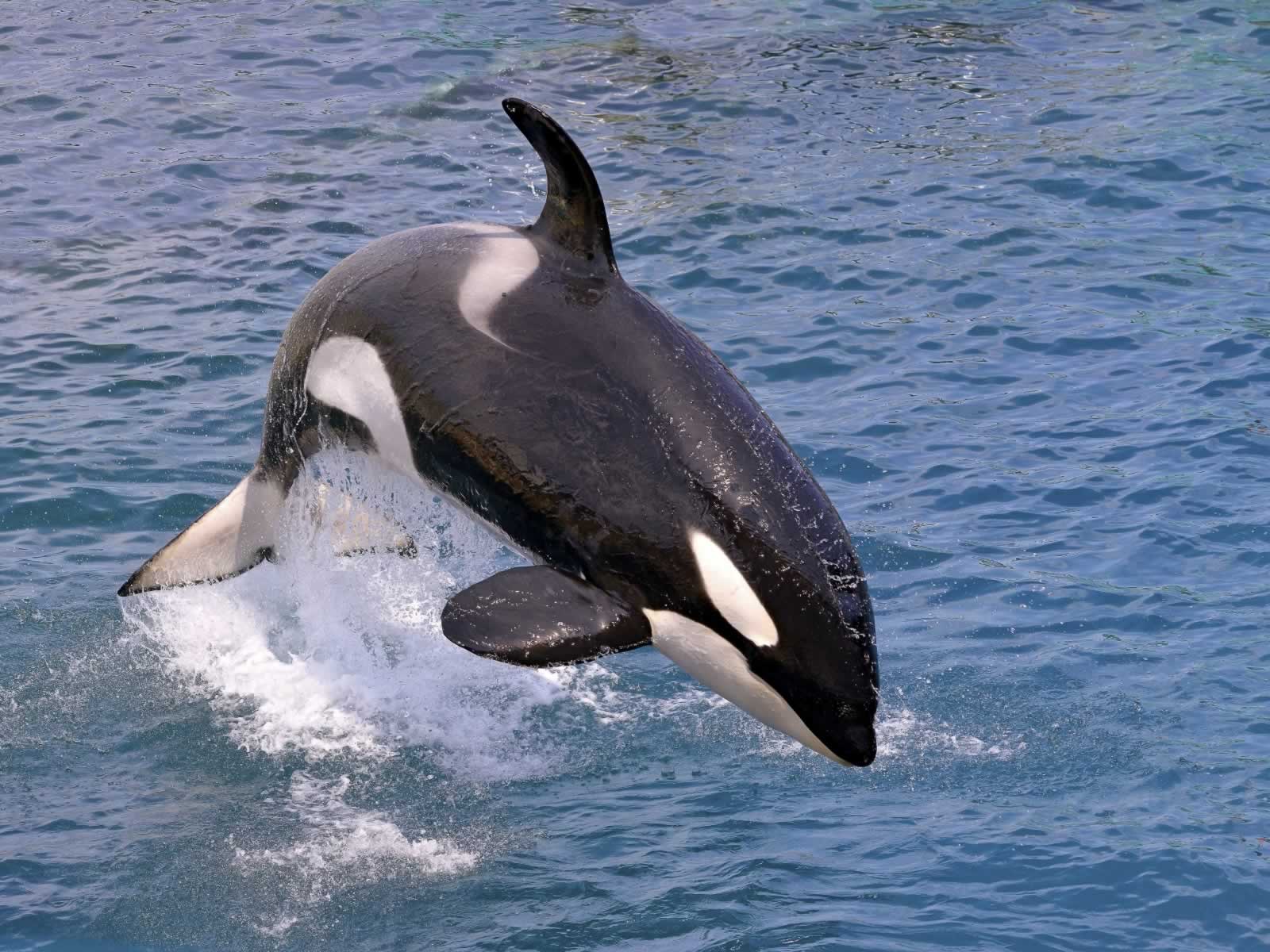 © iStock.com/Musat
1. PETA's Groundbreaking Lawsuit
When an individual is removed from his or her home by force and then imprisoned, made to labor under punishing conditions, and permanently deprived of freedom, it's called "slavery." In October 2011, PETA filed a lawsuit against SeaWorld on behalf of five wild-caught orcas seeking a declaration that these five orcas were being held as slaves and subjected to involuntary servitude in violation of the 13th Amendment to the U.S. Constitution. Joined in the lawsuit by three orca experts and two former SeaWorld trainers, PETA asserted that the conditions under which these orcas live constitute the very definition of slavery.
2. Video Emerges of Shocking Attack at SeaWorld
The release of a video showing Kasatka, a wild-caught orca enslaved at SeaWorld, lashing out in frustration at trainer Ken Peters in front of visitors to the theme park produced shockwaves of public and media outrage and dismay over the appalling level of frustration experienced by orcas and other marine mammals in captivity—and over the dangers posed to humans who come into contact with these profoundly stressed animals.
3. PETA Becomes Part Owner of SeaWorld
When SeaWorld decided to offer up 20 million shares of common stock in an initial public offering, no one expected PETA to be one of the first in line to buy. We quickly purchased the smallest number of shares necessary to give us the right to attend and speak at annual meetings and submit shareholder resolutions asking for policy changes. PETA was even able to enlist actor  Jessica Biel and surfing champion Kelly Slater to submit questions on PETA's behalf, bringing the plight of orcas and SeaWorld's responses into the national media spotlight.
4. Promotion of Blackfish
Although many activists and animal rights groups, including PETA, had been advocating for the animals at SeaWorld for decades, Gabriela Cowperthwaite's critically acclaimed documentary Blackfish was the assist this movement needed in order to gain real traction. Its debut on CNN in October 2013 was welcomed with a trending topic on Twitter, thanks to PETA's live-tweeting of the broadcast.
5. PETA Disrupts the Rose Parade
After tournament officials allowed a SeaWorld float to appear in the 2014 Rose Parade, 100 PETA supporters educated attendees about the abusement park's cruelty to orcas, and 19 were arrested for peacefully sitting down in front of the SeaWorld float.
6. Musicians Cancel Concerts
Facing mounting pressure on social media and online petitions led by PETA, many artists canceled scheduled performances at SeaWorld parks. Acts that shunned SeaWorld included Trace Adkins, Trisha Yearwood, Willie Nelson, Cheap Trick, Heart, Barenaked Ladies, Martina McBride, and 38 Special.
7. Airlines Sever Ties With SeaWorld
After hearing from PETA and its supporters, several airlines, including United Airlines, Alaska Airlines, Southwest Airlines (a former official SeaWorld partner), JetBlue, and Virgin America, chose to cut ties with SeaWorld.
8. More Corporate Sponsors Jump Ship
Even more businesses, including travel sites and household-name companies like Taco Bell and Mattel, decided to end their partnerships with SeaWorld. Notably, the president of Hyundai Motor America, which had been a sponsor of the theme park's 50th anniversary celebration and  2013 Epic Voyage promotional campaign, informed PETA that the carmaker was ending its association with SeaWorld, and Panama Jack ended its stint of more than a decade as the park's "Official Sun Care" partner.
9. Protesters Descend on Georgia Home of New SeaWorld CEO
When SeaWorld announced the appointment of its new CEO, Joel Manby, PETA wasted no time in educating him—and his family and neighbors—with a little "wake-up call." With signs proclaiming, "Joel Manby Runs Orca Prisons" and "The Whole World Is Watching: Release Orcas to Sanctuaries," protesters encouraged Manby to take SeaWorld in a new direction—one featuring coastal sanctuaries, virtual-reality displays, and other animal-friendly innovations—instead of maintaining SeaWorld as a cruel prison for captive orcas.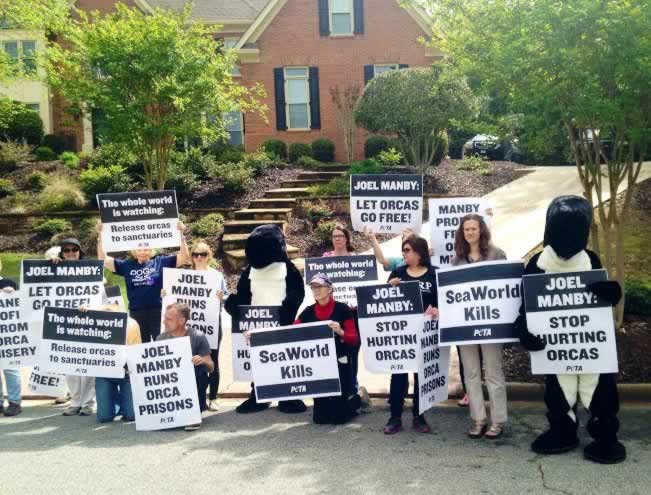 10. PETA Supporters Protest SeaWorld at Travel Expo
PETA supporters descended on SeaWorld's booth at the 2015 Washington, D.C., Travel & Adventure Show—where it was using live penguins, a live monkey, and a live frog as props to promote its parks—and, before a large crowd, protested the ongoing captivity of orcas at SeaWorld. The protest was conducted in silence because of the presence, at the booth, of animals exploited by SeaWorld.
11. Virtual-Reality Experience Allows Users to See Life Through the Eyes of an Orca
PETA launched a summer tour of its new "I, Orca" empathy project, which uses wireless Google virtual-reality goggles to immerse participants in a world where they can swim freely in the ocean with an orca family. Users also meet an orca mother (voiced by actor Edie Falco), who still mourns the loss of a baby stolen from her decades ago and sent to SeaWorld, where he now serves a life sentence of misery in captivity.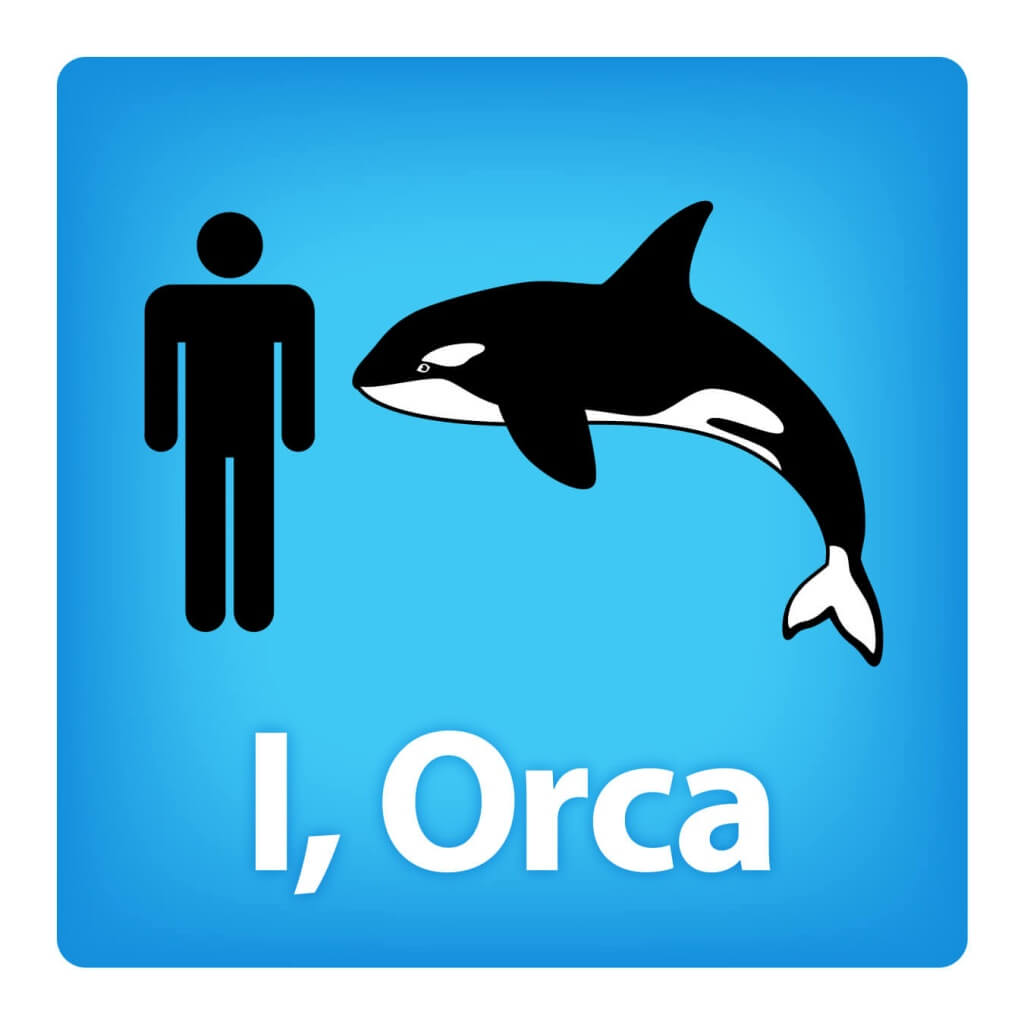 12. SeaWorld Spy Exposed
For three years, a man calling himself "Thomas Jones" attended PETA protests at SeaWorld and organizational meetings in an effort to get close to PETA employees. Hoping to incite illegal actions, "Thomas Jones" also posted inflammatory messages on social media, such as calls to "burn [SeaWorld] to the ground" and "drain the new tanks at #SeaWorld." But as reported by Bloomberg, PETA's investigation of "Thomas Jones" revealed that he was actually Paul T. McComb, a human-resources employee at SeaWorld San Diego.
13. PETA Beats SeaWorld at Its Own Game
SeaWorld attempted to win back the public with a multimillion-dollar PR plan, which included a commercial featuring employees at its parks. PETA decided to make a video, too—only it told the truth:
14. An Unparalleled Social Media Presence: #OrcaWeek
PETA timed online promotions to follow SeaWorld's #AskSeaWorld campaign, which was almost universally regarded as an epic failure. One of the highlights of PETA's week-long effort was a "Would You Rather" game in which @PETA's Twitter followers and celebrities shared what they would rather do than go to SeaWorld.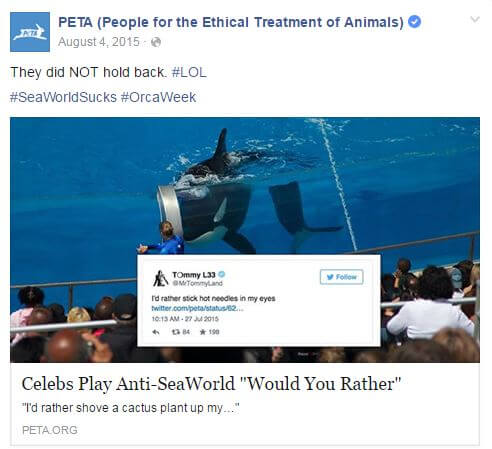 15. California Coastal Commission Ruling
After the California Coastal Commission received more than 120,000 e-mails and letters from concerned PETA supporters, and hundreds of protesters, including actor Pamela Anderson, turned out for the commission hearing at the Long Beach Convention & Entertainment Center, it voted to approve SeaWorld's plan for a new orca prison in San Diego, but only after one of the commissioners secured an amendment stipulating that there be no more breeding.
16. Munchkin and PETA Pledge to Fund Orca Sanctuary
Munchkin, a leading retailer of children's clothes and toys, offered to donate $1 million toward the construction of a coastal sanctuary for captive orcas. On the heels of the announcement, PETA offered to match the funds—if SeaWorld would agree to retire to the new sanctuary all the orcas it holds captive. A coastal sanctuary would finally allow long-suffering orcas to feel the ocean waves, hear wild orcas in the distance, and attain some semblance of a natural life.
17. Nonstop Celebrity Support
What do legendary rocker Tommy Lee and Telenovela superstar Kate del Castillo have in common? They both joined forces with PETA and used their high-profile status to shine light on the miserable lives of the orcas at SeaWorld. Undoubtedly, this support has educated countless individuals who now know that a concrete tank is no place for an orca. Joined by Jason Biggs, Behati Prinsloo, Joanna Krupa, Marisa Miller, Holly Marie Combs, Krysten Ritter, Laura Vandervoort, Colbie Caillat, Kathy Najimy, Bob Barker and more, they have voiced their support for freedom for all animals at SeaWorld.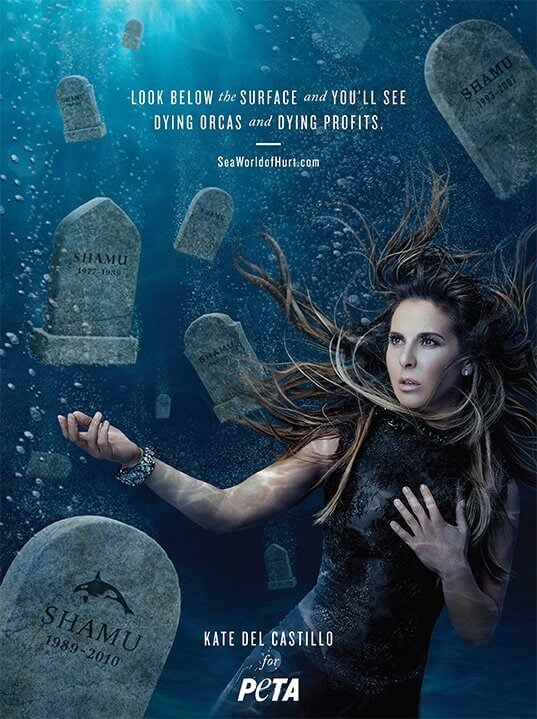 18. Announcement That Wild-Caught Orca Tilikum Is Gravely Ill
Tilikum, the largest orca in captivity—and one of the longest-suffering—fell ill in the spring of 2016. SeaWorld issued a statement asserting that Tilikum suffered from a possible bacterial infection and that a "cure for his illness has not been found." If Tilikum never sees the ocean again, after being kidnapped from it 30 years ago, his blood will be on SeaWorld's hands and on the walls of his dismal concrete prison tank.
Finally, SeaWorld Announced an End to Its Breeding Program
PETA and caring people around the world campaigned hard for this. PETA's celebrity supporters—including Kate del Castillo, Jason Biggs, Jessica Biel, Bob Barker, Marisa Miller, Edie Falco and Joanna Krupa—all worked to expose the unnatural conditions and untimely deaths of animals at SeaWorld, and their voices were joined by millions of others who were outraged after watching Blackfish. 
Ending Breeding Isn't Enough
Let's celebrate today—but remember, this fight is not over yet. While SeaWorld's announcement that it will no longer breed orcas is a step in the right direction, to do right by the orcas now, SeaWorld must transfer these long-suffering animals to ocean sanctuaries so that they can attain some semblance of a natural life outside their prison tanks.
---
Learn more about cruelty at SeaWorld on The PETA Podcast:
Listen to more episodes on iTunes, Stitcher, and Spotify! Subscribe for new episodes.
---