SeaWorld's 2015 financial report was released and, along with it, a confirmation both that the company has employed more than one spy to infiltrate PETA and that it values its spies more highly than the executives who have had their heads chopped off in droves, as at least one of the spies is still working at the company.
In an investor call on Thursday, SeaWorld CEO Joel Manby admitted the practice of using spies when he reportedly directed management to "end the practice in which certain employees posed as animal rights activists."
PETA first exposed the SeaWorld spies in July, when a man named Paul T. McComb, a human resources employee at SeaWorld San Diego, was revealed to be posing as an activist under the alias "Thomas Jones."
"Jones" joined PETA's Action Team using a P.O. box in San Diego that we discovered was registered to Ric Marcelino, the director of security for SeaWorld San Diego. He constantly fished for information from PETA staffers about protests against SeaWorld and even joined PETA supporters in a protest of SeaWorld's float in the 2014 Rose Parade. But after he was arrested and taken to jail with the other protesters who sat down in front of the float, he suddenly vanished when the other protesters were booked and later released on bail. "Jones" was inexplicably released without charges, and his name never even appeared on arrest sheets.
"Jones" repeatedly tried to incite people who object to SeaWorld to act illegally:

And in July, PETA also called out the possibility that the company was using more than one of its employees as spies.
But SeaWorld's troubles don't end with the embarrassing admission of spying. The company's stock dropped more than 11 percent today after the 2015 report was released.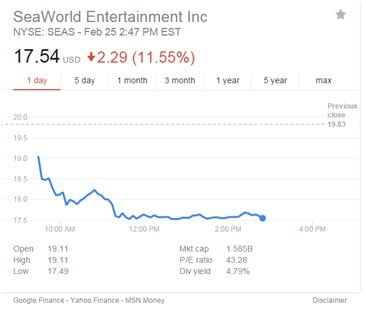 SeaWorld's finances continue to flop as animals continue to be found dead in its tiny tanks, with one death every single month since November. If SeaWorld had business savvy or common sense, it would modernize its business with coastal sanctuaries and virtual reality displays instead of perpetuating dolphin prisons. The tawdry orca sideshows and despicable spying tactics are sinking SeaWorld's ship.
Paul McComb is still employed by SeaWorld, although he has reportedly been moved to a different department.