PETA's work to educate people about SeaWorld has apparently made the company so upset that it created a corporate espionage campaign.
For three years, a man calling himself "Thomas Jones" has been attending PETA protests at SeaWorld and organizational meetings, trying to get close to PETA employees. "Thomas Jones" has also been posting inflammatory messages on social media, trying to incite illegal actions such as calls to "burn [SeaWorld] to the ground" and "drain the new tanks at #SeaWorld."
But as reported by Bloomberg, PETA's investigation of "Thomas Jones" has revealed that he is actually Paul T. McComb, a human resources employee at SeaWorld San Diego.
"Jones" joined PETA's Action Team using a P.O. Box in San Diego that we discovered was registered to Ric Marcelino, the director of security for SeaWorld San Diego. He constantly "fished" for information from PETA staffers about protests against SeaWorld, and even joined PETA supporters in a protest of SeaWorld's float in the 2014 Rose Parade. But, while he was arrested and taken to jail with the other protesters who sat down in front of the float, he suddenly vanished when the other protesters were booked and later released on bail. "Jones" was inexplicably released without charges, and his name never even appeared on arrest sheets.
Here is "Jones" in the police van on the way to the Pasadena police station after being "arrested" while "protesting" the SeaWorld float at the Rose Parade.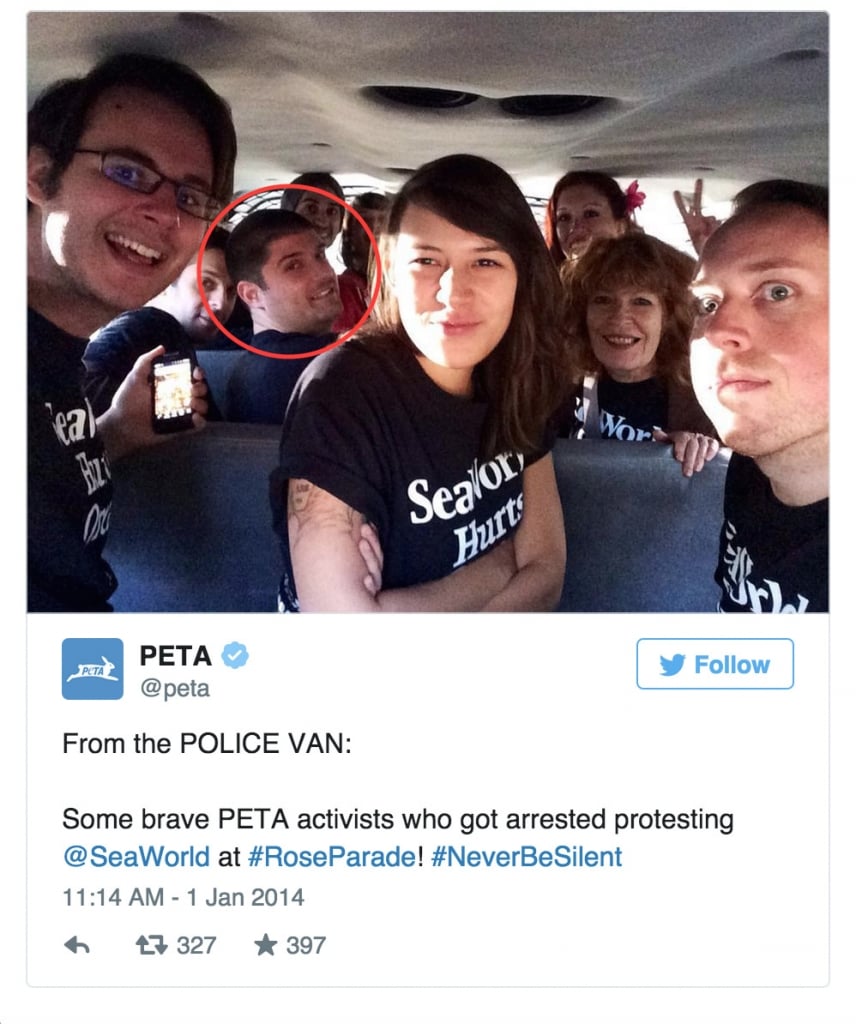 "Jones" has remained active, attending animal rights conferences and questioning whether protests are PETA-sponsored. But, most insidiously, he has repeatedly tried to incite people who object to SeaWorld to act illegally, stating that it's time to "get a little aggressive," for "direct action," to "grab pitchforks and torches," and suggested activists blow horns outside the SeaWorld CEO's house at night . He even organized his own "direct action" protest—one advertised as "more exciting than just holding signs"—only to be absent on the day of the demonstration. All of this leaves no doubt that SeaWorld is a dirty tricks corporation, devoid of ethics.
Public opinion has turned away from keeping orcas in captivity, and SeaWorld needs to accept that and send its orcas to seaside sanctuaries where they can live out their lives in peace.