An eyewitness has just provided PETA with disturbing photos of Makani, the 4-year-old orca who was orphaned earlier this month when his mother, Kasatka, died at SeaWorld San Diego. The photos show his body covered with deep rake marks, injuries caused by the teeth of other orcas.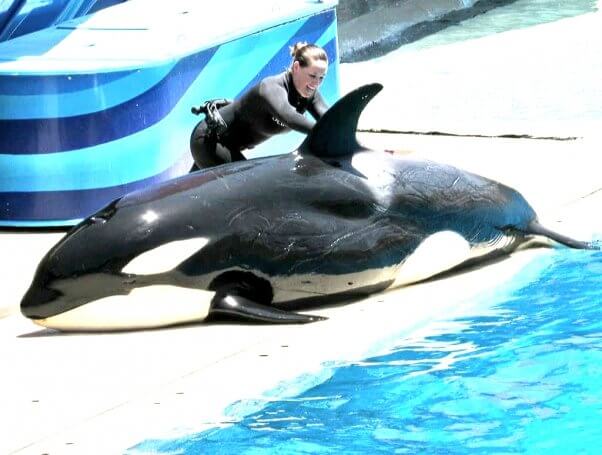 Fights between frustrated captive orcas are relatively common, since the stressed and often incompatible animals are crammed together into tight, barren enclosures. But former SeaWorld trainer turned orca advocate John Hargrove told PETA that whenever a young male orca in captivity is separated from his mother, he's often victimized by the other captive males, often to the point of preferring to be isolated rather than staying with his own species—for fear of being attacked. According to the eyewitness, Makani beaches himself, as he is doing here, in order to escape attacks.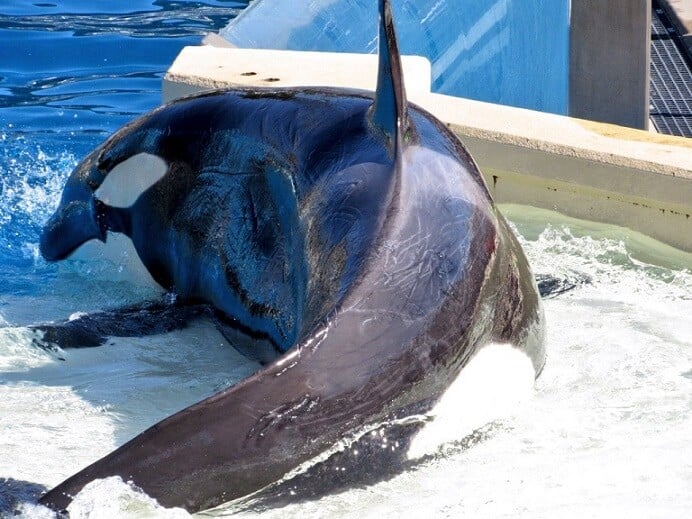 © Chelsy S., Eyewitness
In the wild, Makani would have stayed with Kasatka for decades. Family groups, or "pods," consist of a mother, her adult sons and daughters, and her daughters' offspring. Members of the pod communicate in a dialect specific to that pod.
SeaWorld knew that Kasatka had been suffering from a bacterial lung infection for at least three years when they artificially inseminated her again in 2011 and forced her to bear Makani, her fourth calf for the parks. This video of the two of them, taken by the eyewitness just last year, shows how dependent Makani still was on his mother:
PETA's source, whom we'll refer to as "Chelsy S.," is a marine biology student who has been detained by SeaWorld San Diego for documenting Kasatka's failing health. She also captured this video footage of orcas appearing to fight among themselves in their miniscule concrete tank in May of this year:
"Now that Kasatka is gone, I fear for Makani's life. … Even while she was alive, he was the most beat up [orca] in the park," Chelsy told us. "I call him my 'Frankenstein' … because he's so mangled-looking. I can only imagine what's going to happen now that she's gone. … I will never forgive SeaWorld for what they have done."
Despite the public outcry, SeaWorld continues to deny Makani and hundreds of other sentient beings their fundamental rights to freedom and safety. If you haven't yet, tell SeaWorld officials that you'll keep up the pressure on their bottom line until all these animals are released into sanctuaries.