Not only are visitors shunning SeaWorld, the marine abusement park's business partners are also bailing on the notorious company. The blockbuster documentary Blackfish drew back the curtain, revealing that orcas are confined to cramped tanks that are (to them) comparable in size to bathtubs, have been separated from their families, and often die far short of their natural life expectancy.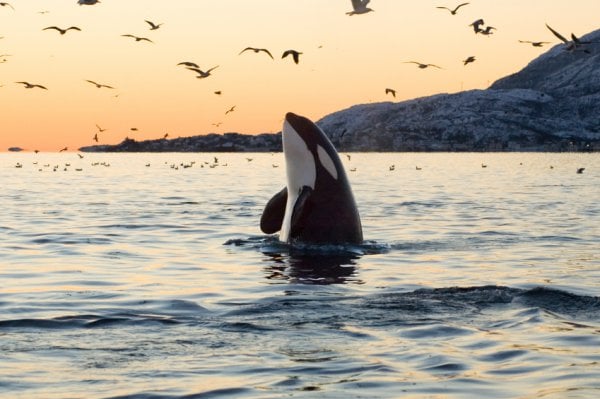 © iStock.com/sethakan
Wild orcas swim vast distances every day in tightly knit social groups. But in SeaWorld's tanks, many orcas resort to gnawing on metal pool grates—which leads to broken teeth and chronic pain—as a result of stress and despair caused by their confinement.
More and more organizations no longer want to be associated with the failing park, including the following:
42West
AAA Arizona
AAA Minneapolis
AAA Northeast
AAA Washington
Abercrombie & Kent
Adventure Student Travel
Aimia
Airbnb
Air Canada
Alaska Airlines
Alpha Mom
Ambassador Cruise Line
American Academy of Pediatrics
American Sky
Audley Travel
British Airways Holidays
California State University–Long Beach
Caribtours
Citalia
City of Gainesville, Florida
Club Med
Contiki
Cosmos Holidays
Costsaver
Coupon Cabin
Cunard
Destination Coupons
Destinology
Esprit Ski
Exodus Travel
Expedia
Explore!
G Adventures
GiftRocket
Globus Family of Brands
Honeymoon Dreams
Human Growth Foundation
Hyundai Motor America (former official partner)
Independent Traveler
Inghams
Inntravel
Insight Vacations
Intrepid Travel
JetBlue
Jimmy Martin Travel
Just You
Kuoni
Mariachi Imports (refused a merchandise order from SeaWorld)
Mattel
Mercury Holidays
Mott's Applesauce (former official partner)
The NFL's Miami Dolphins
Outdoorplay (refused a merchandise order from SeaWorld)
Oz Coupons
P&O Cruises
Panama Jack (former official partner)
Pettitts Travel
Premier Holidays
Projects Abroad
Pure Destinations
Qantas
Rainbow Tours
Randolph Brooks Federal Credit Union
Regent Holidays
Responsible Travel
Rickshaw Travel
Riviera Travel
Rough Guides (which updated its description of SeaWorld)
Santa's Lapland
Savings.com
Snickers
Southwest Airlines (former official partner)
Sovereign Luxury Travel
Stauffer's
Sunwing Travel Group
Taco Bell
Teletext Holidays
Thomas Cook
Titan Travel
Trafalgar
Travelsphere
Travelwise
Tripadvisor
The Ultimate Travel Company
United Airlines
Uniworld
Vacation Resorts International
Virgin Atlantic Holidays
WestJet
World Travel Guide
Your Co-Op Travel
Thank you to everyone who has been spreading the word about SeaWorld's cruel treatment of animals, telling others about Blackfish, and staying away from the park.