Update: As lower attendance resulting from the global pandemic continues to affect SeaWorld, the abusement park has announced that it has no plans to bring back many previously furloughed workers.
SeaWorld skirted around details regarding the number of jobs it has officially cut, but it reported that it will spend between $2.5 million and $3 million "related to employee severance costs."
SeaWorld says it will permanently lay off some employees who have been on furlough https://t.co/dBtdLsd2AW pic.twitter.com/VXTakrNEWj

— Sentinel Business (@OSentinelBiz) September 4, 2020
The company blames the novel coronavirus for its financial circumstances, but just last year, it also laid off an undisclosed number of workers. In total, it has eliminated more than 3,300 positions since the release of Blackfish in 2013.
The Orlando Sentinel also reported that SeaWorld had fallen behind on its bills, owing millions of dollars on construction payments for projects at properties in Florida and California.
Whether or not COVID-19 takes SeaWorld out, we know it's inevitable that the company will tank. Every year, more people learn about the animal abuse that takes place at the parks.
If SeaWorld hopes to survive much longer, it must stop breeding dolphins and whales and send the marine mammals it imprisons to seaside sanctuaries.
Update August 8, 2018: SeaWorld has just announced that it's cutting more jobs—this time, 125—bringing the total to more than 1,100 employees rendered jobless since the documentary Blackfish debuted.
SeaWorld cuts 125 jobs, plans restructuring https://t.co/F1SQrXKRKM pic.twitter.com/OGmnuyOW6I

— Orlando Sentinel (@orlandosentinel) August 7, 2018
PETA believes that investors would need rose-tinted glasses to expect a rebound while SeaWorld must constantly scramble to stanch the bleeding. Instead of letting employees go, the company needs to let the orcas go—to seaside sanctuaries—and then it would truly rebound.
Originally posted on October 19, 2017:
SeaWorld has announced that it has laid off another 350 employees. The company doesn't plan to fill the open positions. This means that the abusement park has laid off nearly 1,000 employees since the release of Blackfish.
#SeaWorld is laying off 350 more people. If they laid off the orcas instead, their business wouldn't be sinking.

— PETA (@peta) October 18, 2017
It's no surprise that SeaWorld's ship is continuing to sink. The park's attendance numbers and revenue have been as dismal as ever, and just a few months ago, the company's stock plummeted to the lowest it's ever been. How many more animals will die and how many more employees will SeaWorld lay off before the company heeds PETA's call to move the surviving animals to seaside sanctuaries?
Originally posted on December 6, 2016:
SeaWorld announced that it will eliminate 320 company wide positions, marking yet another chapter in the abusement park's demise.
SeaWorld Entertainment cuts 320 positions in its 2nd second large layoff in 2 years https://t.co/xoGxMynyka pic.twitter.com/C8LKDJKDIp

— Orlando Sentinel (@orlandosentinel) December 6, 2016
SeaWorld is still in the same sinking boat that it was in two years ago when it jettisoned its CEO and 311 employees. The major cuts are no surprise considering that its attendance and revenue continue to tank.
SeaWorld hasn't issued a breakdown of the job cuts. But, just days after the announcement, SeaWorld-owned Busch Gardens revealed that it was forced to close its Jambo Junction exhibit.
While this is great news, we only wish the eliminated jobs would have included those of the orcas and other marine animals imprisoned at SeaWorld. Orcas are still in the same tiny tanks and dolphins and other marine mammals are still being drugged and forcibly impregnated—and visitors are still staying away.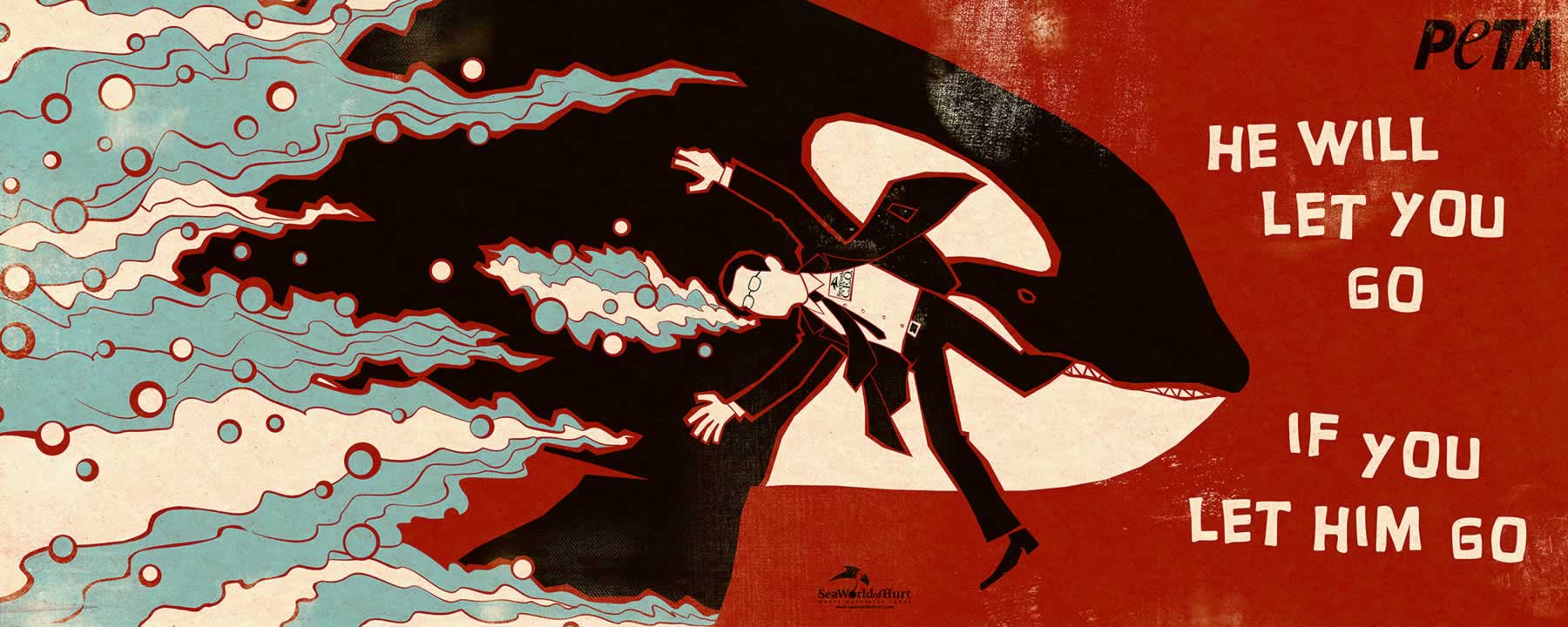 Instead of sinking millions of dollars into failed PR campaigns, SeaWorld must listen to PETA, orca experts, and kind people everywhere and send these animals to seaside sanctuaries. Real change is its only hope of staying afloat.
Empty the Tanks
The public has spoken, and it's against animal abuse. Orcas belong in the ocean with their families, not in small concrete tanks, swimming in endless circles for years on end.
Urge SeaWorld to send orcas to seaside sanctuaries and stop exploiting all animals!