Update: SeaWorld executives have dollar signs where their eyes should be, but even they can't ignore that 3-month-old Kyara died on #BoycottSeaWorldDay while Academy Award nominee James Cromwell was preparing to lead PETA supporters in a takeover of SeaWorld's orca show. Forty orcas have now died on SeaWorld's watch—it's time for the abusement park to move the remaining animals to seaside sanctuaries before the death toll hits 41.
Click here to help PETA call on SeaWorld to retire all the orcas to seaside sanctuaries before the next fatality.
Originally posted on July 24, 2017:
Two orcas at SeaWorld are reportedly on the brink of death: Severely ill matriarch Kasatka hasn't felt the ocean since she was taken away from her family in the wild at just a year old, and now, her 3-month-old granddaughter, Kyara, may be dying—a death that would be sure to traumatize the infant's mother, Takara. If she succumbs to her illness, Kyara would become the 40th orca to die on SeaWorld's watch, not one of whom has died at an old age. SeaWorld had the opportunity to allow Takara to give birth in a seaside sanctuary, but it instead chose to make a buck off the birth.
On Saturday, SeaWorld announced that Kyara was showing possible signs of pneumonia. Although Kyara and Takara are both kept at SeaWorld San Antonio, Kyara is currently being held in the husbandry pool, separated from her mother. While the company claims that its "goal is to return her back to Takara, and to reunite mom and calf with the rest of the pod as soon as possible," two of her siblings have not seen their mother for years.
A Family Torn Apart
Kasatka is Takara's mother and Kyara's grandmother. Kasatka gave birth to Takara, her first calf, on July 9, 1991. Her mate and Takara's father, Kotar, died when Takara was only 3 years old, after a pool gate closed on his head, fracturing his skull. Even though wild orcas often live with their mothers for life, Kasatka and her calf were separated when Takara was only 12 years old. Kasatka is being held at SeaWorld San Diego, while Takara resides at SeaWorld San Antonio.
On March 17, 2016, SeaWorld announced that Takara was pregnant with her fifth baby. On April 19, 2017, Takara gave birth to Kyara while at SeaWorld San Antonio. But unless SeaWorld retires all orcas in its parks to a seaside sanctuary, Kasatka will likely never meet her new grandchild, even if they both survive.
---
Learn more about SeaWorld on The PETA Podcast:
Listen to more episodes on iTunes, Stitcher, and Spotify! Subscribe for new episodes.
---
The three female orcas are separated not just from one another but also from family members scattered throughout the world, many of them held in captivity at SeaWorld's various U.S. parks. Kasatka has been bred numerous times since being purchased by SeaWorld. She's given birth to four calves and is a grandmother or great-grandmother to eight other orcas. Takara's daughter Kohana lives at Loro Parque in Spain and her son, Trua, at SeaWorld Orlando.
Speak Up for Kasatka, Takara, Kyara, and All Other Animals Imprisoned at SeaWorld
All the animals at SeaWorld's abusement parks deserve to spend the rest of their lives in seaside sanctuaries where they'd be able to feel the sun and rain, dive deep, and raise their young, instead of floating in chemically treated water in concrete tanks.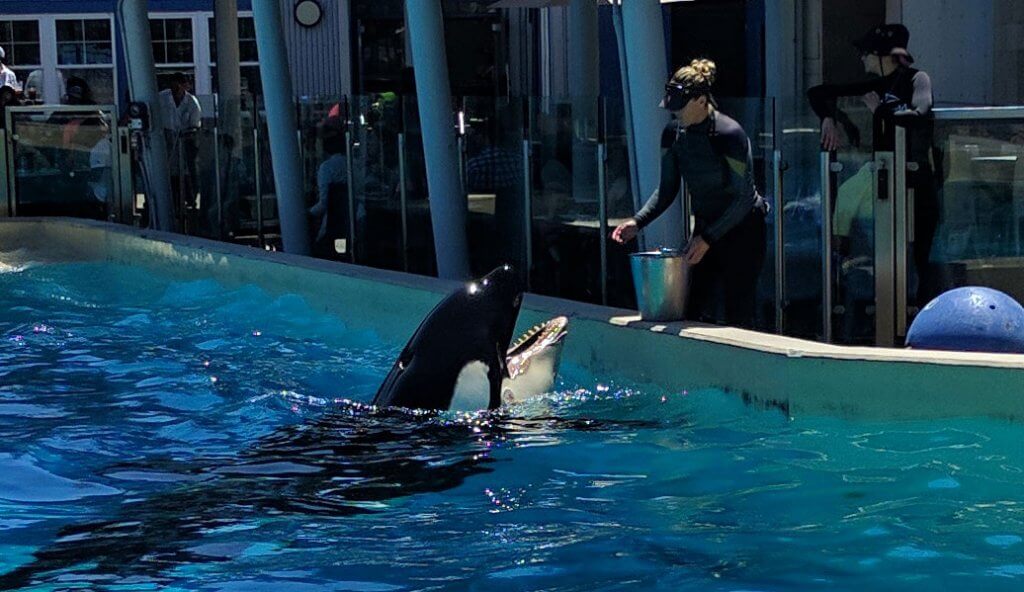 Kasatka and Kyara may be ill, but that doesn't mean that it's too late for SeaWorld to start building sea sanctuaries for the other orcas trapped in its tiny tanks, including Kasatka's and Takara's numerous other offspring. The decades of orca torment must end now.