In The Little Mermaid, Ariel—a mermaid and a princess—yearns to escape her Atlantica confines. At SeaWorld Orlando, Ariel the bottlenose dolphin shares her fictional counterpart's longing for freedom. But there's one major difference: In the Disney version, Ariel the mermaid got her happy ending, while Ariel the dolphin is still trapped at SeaWorld after 30 years in captivity. This is her story.
On May 3, 1992, Ariel was born in captivity at Florida's Marineland Dolphin Adventure.
Marineland is a park that keeps marine mammals—highly intelligent, sensitive social beings—imprisoned in small, chemically treated tanks.
This is where Ariel began being used as a breeding machine.
In 2000, when she was 7 or 8 years old, she gave birth to her first calf.
Ariel and her first calf's time together was short—the calf died not long after birth. Although details about the death weren't released, we do know the calf was attacked by a juvenile male dolphin named Razzle, which may have been a factor.
In March 2001, Ariel and a slew of other captive dolphins were transferred to SeaWorld Orlando.
The trip from Marineland to SeaWorld is 100 miles. Ariel and the others were carted around Florida like game pieces for entertainment.
Approximately one month after arriving at SeaWorld Orlando, Ariel gave birth again.
Her second calf, Alpha, was allegedly inbred—Ariel and Alpha's father, Razzle, share the same father.
On May 5, 2005, Ariel gave birth again.
Her third calf, Cinco, died the following year of acute meningitis and cerebral vasculitis (sudden inflammation of the tissues around the brain and blood vessels feeding the brain).
In 2007, she gave birth to her fourth baby—Alia.
Alia's story is particularly upsetting. In 2013, she was removed from SeaWorld Orlando and hauled across the country to Six Flags Discovery Kingdom in Vallejo, California. Then in 2016, she was shuffled to Dolphinaris Arizona. But her stay there didn't last long—she died in 2018 at not even 12 years old. (In their natural habitat, dolphins live an average of 40 years.)
On April 18, 2008, Ariel gave birth to a calf named Khloe.
Like her siblings, Khloe didn't get to bond with her mother for long. She was also transferred from SeaWorld Orlando to Six Flags Discovery Kingdom in 2013 and then to Dolphinaris Arizona in 2016. Like Alia, she died at Dolphinaris roughly two years after arriving at the former captive marine mammal park. One year later—following efforts by PETA and other dolphin advocates—Dolphinaris Arizona closed its dolphin exhibit.
In 2011, Ariel gave birth again.
Her fifth calf was named Aurora. Aurora's time with her mother was also brief—the calf was separated from Ariel when she was roughly 6 years old.
Ariel's sixth and most recent calf, Archer, was born in 2014.
In 2016, Archer was hauled to Discovery Cove—another SeaWorld-owned concrete prison that specializes in dangerous up-close encounters with sea life, including "swim with dolphins" programs. A year later, he was shuffled back to SeaWorld Orlando.
Ariel, Archer, and all other animals still being held captive at SeaWorld parks deserve to be given a semblance of the natural life that they've been denied for so long.
In nature, dolphins swim up to 60 miles a day, dive to depths of nearly 1,500 feet, and maintain dynamic relationships within a large social network. But at SeaWorld, they're packed into shallow tanks in which they can't escape attacks from frustrated, aggressive dolphins.
At SeaWorld's U.S. parks, some 140 dolphins are crammed into just seven cramped tanks.
And although SeaWorld stopped breeding orcas after a PETA campaign, other dolphins like Ariel are still being impregnated, sometimes forcibly and after being drugged.
Nearly 300 dolphins have died on SeaWorld's watch, many of them prematurely.
Although the company feigns ignorance, the high number of premature and unusual deaths at its parks point to a serious common denominator: captivity. SeaWorld's agreement to stop treating dolphins like surfboards is progress, yes, but captivity still denies dolphins like Ariel everything that's natural and important to them. In order not to be regarded as a cruel attraction any longer, SeaWorld needs to become an amusement park without animals.
Booking.com, TripAdvisor, Virgin Holidays, and dozens of other companies have severed ties with SeaWorld over its refusal to stop using and abusing animals. The National Aquarium in Baltimore is building a dolphin sanctuary, a Chinese marine park moved beluga whales out of extreme confinement to an open-water sanctuary in Iceland, and Canada voted to ban dolphin and whale captivity altogether.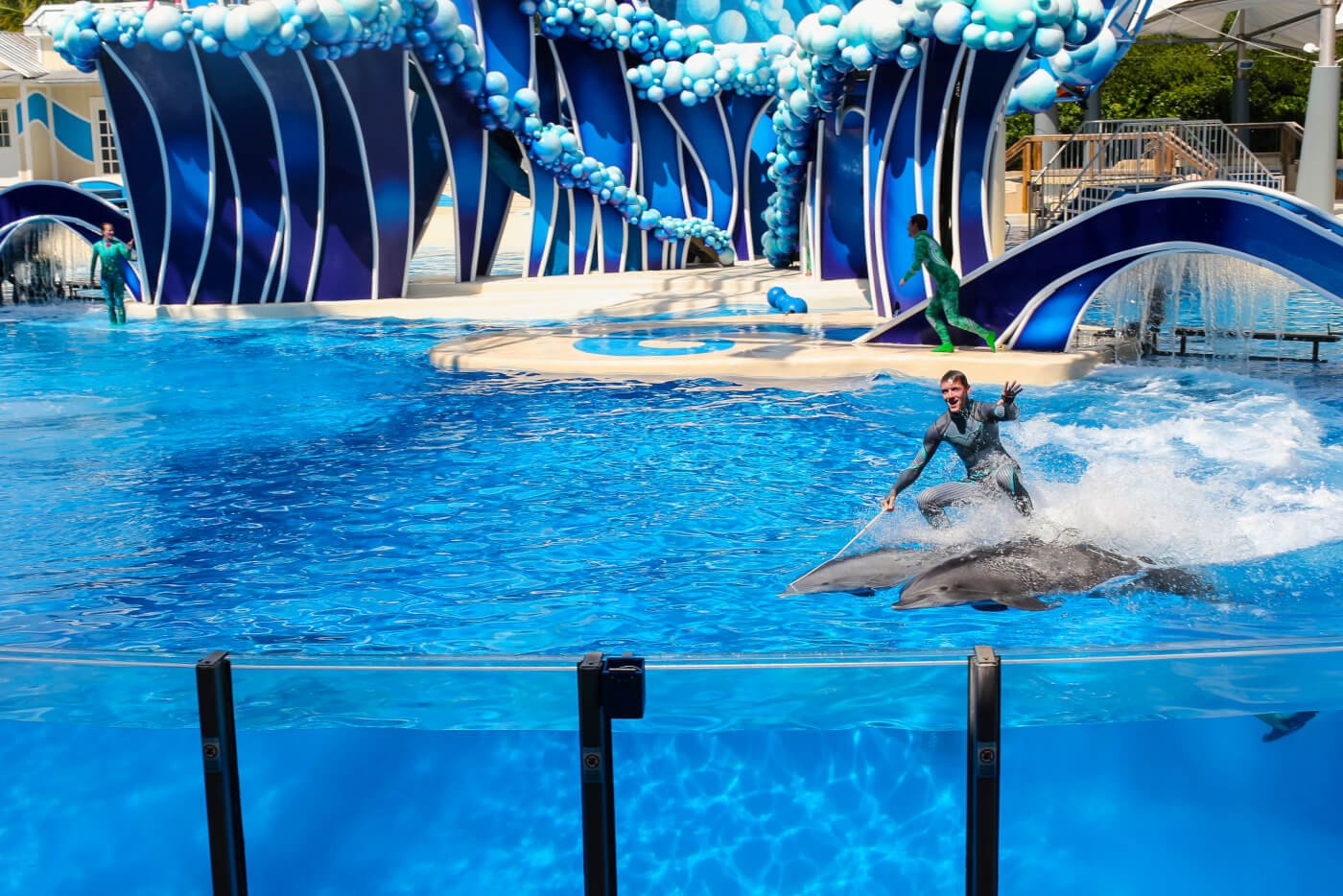 © dreamstime.com/Paul Brewster
Meanwhile, it took a months-long PETA campaign just for SeaWorld to stop treating dolphins like surfboards and agree not to make trainers stand on their faces in demeaning circus-style shows any longer.
Ariel and her dolphin friends belong under the sea. Help us help them get the happily ever after that they deserve.
Click on the link below to help us persuade the abusement park company to make a firm plan to release all animals to seaside sanctuaries as soon as possible.
And please, boycott SeaWorld and all other attractions that exploit animals—and ask your friends to do the same: