Meet Tilikum, the largest orca in captivity, weighing 12,500 pounds and measuring over 22 feet in length.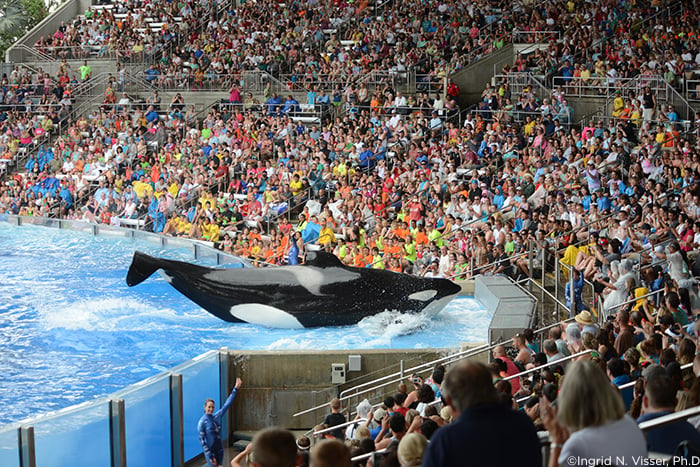 Tilikum was captured near Iceland in November of 1983, over 30 years ago. At only 2 years old, when he was approximately 13 feet long, he was torn away from his family and ocean home.
This image shows Tilikum covered with lanolin, an oil extracted from sheep's wool. It is applied to orcas' whole bodies to prepare them for a long transport without water.
After his capture, he was kept in a cement holding tank for close to a year at Hafnarfjörður Marine Zoo, near Reykjavík, Iceland, as he awaited transfer to a marine park. Held captive against his will, all he could do was swim in small circles and float aimlessly at the surface of the water, far away from the expansive ocean in which he had swum a hundred miles a day alongside his family members.
Finally, he was transferred to the rundown Sealand of the Pacific in British Columbia, Canada, and forced to call his barren 100-foot-by-50-foot pool—just 35 feet deep—his sad new "home."
Food was withheld from him as a training technique, and he regularly endured painful attacks by two dominant female orcas, Haida and Nootka. He was forced to perform every hour on the hour, eight times a day, seven days a week. The constant stress and exhaustion gave him stomach ulcers.
When the park closed its doors at the end of each day, the three incompatible orcas were crammed into a tiny round metal-sided module for more than 14 hours until the park reopened the next morning.
When Tilikum did not perform a trick correctly, food was withheld from both him and his tankmates, which caused a great deal of tension, and as a result, Haida and Nootka would bite Tilikum and rake the entire length of his body with their teeth.