Another day, another headline reporting SeaWorld's sinking ship. This time, though, things are looking extra dismal for the abusement park.
SeaWorld had a horrible Julyhttps://t.co/zJnvH2rIrb

— Orlando Weekly (@OrlandoWeekly) July 30, 2018
Yesterday, Orlando Weekly reported that "SeaWorld had a horrible July." According to the article, "SeaWorld Parks and Entertainment was hit with a double whammy of bad news in July." One of those included Thomas Cook, a leading travel provider, announcing that it would cut ties with the marine park. On Sunday, the travel business said in a statement that it would "no longer sell any animal attractions that keep orcas in captivity," which we all know are SeaWorld's claim to infamy.
VICTORY Together, we are changing the world for animals! @ThomasCookUK cuts ties with #SeaWorld following yearlong PETA campaign.

Thanks to all who support our progress for orcas. https://t.co/cqEjvt9uow

— PETA (@peta) July 30, 2018
PETA UK's campaign included over 150 protests held by supporters and multiple meetings with Thomas Cook management this past year.
PETA UK plus PETA US teamed up to send Thomas Cook tens of thousands of letters from just your everyday compassionate folk—including Sharon Osbourne, renowned explorer and environmentalist Jean-Michel Cousteau, and all of you!
"I am clear about the kind of business that we want to be. That's why we introduced our animal welfare policy 18 months ago, and that's why we've taken this decision today. And when so many of our customers are so clear in their view, I could not allow our business to ignore them."

—Peter Fankhauser, CEO, Thomas Cook Group
Thomas Cook Group's CEO, Peter Fankhauser, said that the travel company has become increasingly "conscious also of changing customer sentiment." As of yesterday, Thomas Cook's shares are up. According to reports, they may "be up following the news that Thomas Cook will stop selling tickets to SeaWorld attractions over animal welfare fears."
But this wasn't the only hit that SeaWorld took in July. Earlier this month, Zhonghong Zhuoye Group, Co., Ltd.—the park's largest shareholder—reportedly admitted that it couldn't pay its bills. It was allegedly forced to sell the Ruyi Island resort complex, where it had planned to build a new Chinese SeaWorld park. Since then, its chair has reportedly fled to Hong Kong and is now "in hiding."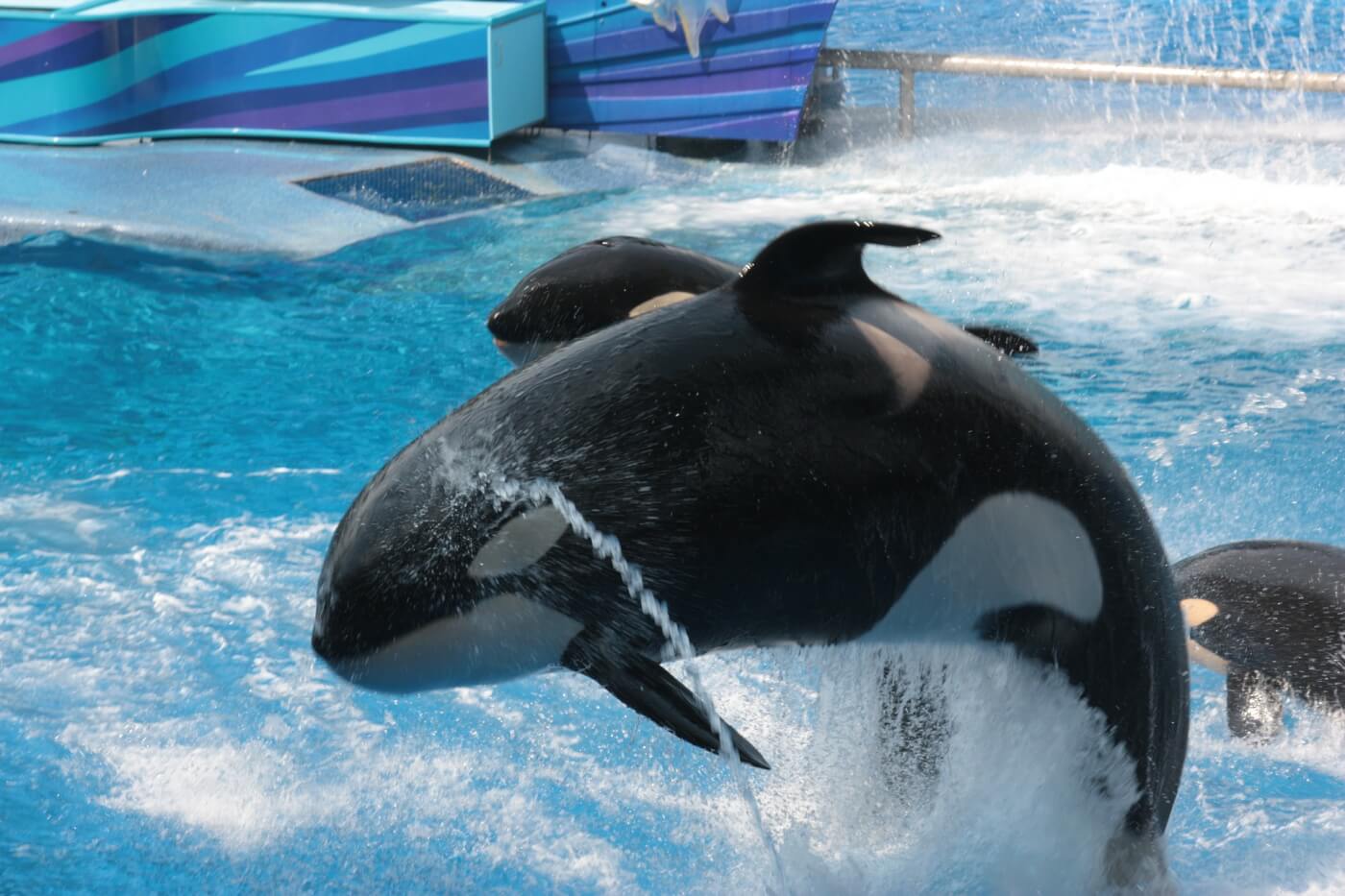 And let's not forget, it was only a week ago that #BoycottSeaWorldDay took over the internet and got everyone talking about the park's cruel confinement of marine mammals.
On #BoycottSeaWorldDay, PETA brought our A game to take #SeaWorld down –– and got EVERYONE talking

See how compassionate people & celebs everywhere took action for the orcas, dolphins, sharks, & other animals trapped inside their cruel parks. https://t.co/GwKEXmLjYt

— PETA (@peta) July 27, 2018
Thomas Cook management finally realized that "customer expectations [are] changing when it comes to animal attractions" and that the majority of people are conscious and compassionate and don't want to patronize businesses that exploit animals. SeaWorld and the other remaining companies that still harm animals need to realize this, too.
Tell SeaWorld to Empty Its Tanks
Help all the animals imprisoned at SeaWorld today by asking the company to establish a firm and rapid plan to release them into sanctuaries, where they'll be given some semblance of the natural life that they've been denied for so long.
And thanks to our groundbreaking rapid-action tool, you can urge multiple companies to cut their ties with the abusement park in just a matter of seconds: