Jan Pettifor is one serious thorn in SeaWorld's side. And she wouldn't have it any other way. Every weekend outside SeaWorld Orlando, you'll find Jan in her Dodge Viper, Lamborghini Murciélago SV, or Lamborghini Diablo VT, all decked out in Blackfish, "Empty the Tanks," and "Free Tilly" regalia, driving a constant loop on SeaWorld Drive. It's a display that people can't miss. And Jan decided that one good outreach deserves another, so now she's aiming to keep people away from SeaWorld before they even make it to Orlando. And she's found another way to do it: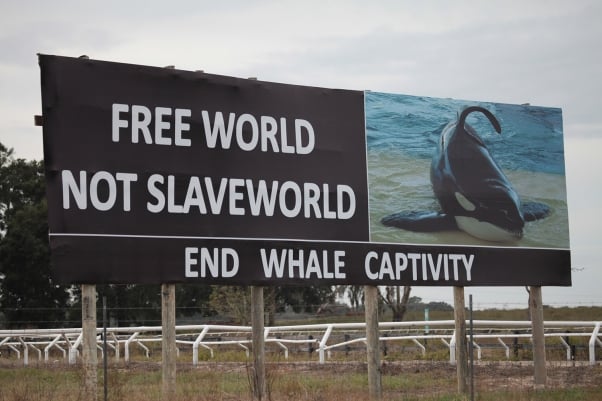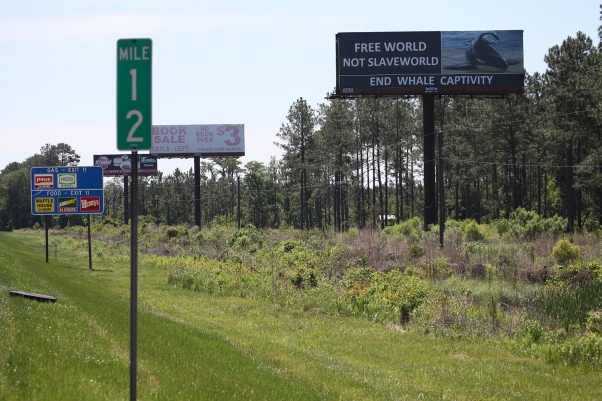 Jan has placed two billboards on Interstate 75, the main artery into Orlando, and paid for them to stay up for the entire year. "As you come over the border from Georgia into Florida, billboards start to appear advertising cheap tickets to SeaWorld that can be bought at the visitor centers coming up. I want tourists to think," she said.
It's impossible to know how many people the cars and billboards are keeping from buying tickets, but the abusement park's attendance is down. And that, too, suits Jan just fine. "[T]rying to bring an end to the madness of keeping huge, sentient, intelligent whales [in captivity] is so worthwhile to me," she explains. "It is very important that this cruelty ends."
And it will. Jan and her fellow orca advocates are always finding a whale of a way to get the word out.
You can help the dolphins imprisoned at SeaWorld by never visiting the theme parks and by sharing information with your friends and family about why they shouldn't visit them, either.
You can also urge SeaWorld to implement a firm and rapid plan to release all the captive marine animals to sanctuaries today.